Ceramic kilns are a great way to get into pottery, whether you want to make art or just dabble in the hobby. But with so many different kilns on the market, it can be hard to know which one is right for you.
Although all the ceramic kilns out there essentially serve the same purpose—to heat materials to high temperatures—there are a few different types, each with its own set of features and benefits.
Keep reading the article to learn more about the best ceramic kilns for home use and the important things you need to consider before deciding on one.
Best Ceramic Kiln For Home Use – Our Top Picks
For people who are on the run, below is a quick overview of our top picks of ceramic kilns and why we choose each of them.
How Do I Choose a Ceramic Kiln?
Selecting a kiln can be tedious, especially if you don't know what to look for. With all of the different brands, models, and features, it's easy to feel overwhelmed.
Here are the most important factors you need to consider when choosing a ceramic kiln:
Temperature
The first thing you need to consider is what temperature range you need. Different materials require different temperatures, so it's important to know what you'll be using the kiln for before making a purchase.
For example, glass fusing kilns typically operate between 1,500 and 2,000 degrees Fahrenheit, while ceramics require temperatures around 2,300 degrees.
TIP: Always consider the temperature a little higher than what you need. This is because kilns tend to reduce heat as they age, so it's better to have extra heat than not enough.
Size
Kilns come in a variety of sizes, so you'll need to decide how much space you're willing to dedicate to your new hobby. If you're just getting started, a small tabletop kiln might be a good option.
However, if you're planning on doing a lot of work or you have a large space, you might want to consider a floor model.
Another thing to keep in mind is the size of the projects you'll be working on. If you're planning on making large pieces such as vases or bowls, you'll need a kiln that can accommodate them.
Features
There are a few different features you might want to consider when choosing a ceramic kiln. One is the type of heat source it uses. Electric kilns are the most common, but there are also gas and wood-fired kilns.
Another feature to consider is the type of controller it has. Some kilns come with simple on/off switches, while others have more advanced digital controllers that allow you to set precise temperatures.
TIP: If you're using a kiln for the first time, it is best to consider one that has pre-set temperature programs. These are usually easy to use and make sure you don't overheat your materials.
Some other features you might want to look for include automatic shut-off, a timer, and a peephole so you can check on your project without opening the kiln.
Power or Amperage
The power of a kiln is typically measured in watts or amps. The higher the number, the more powerful the kiln and the faster it will heat up.
For example, a 1,000-watt kiln will heat up faster than a 500-watt kiln. However, it will also use more electricity, so you'll need to factor that into your decision.
TIP: If you're not sure how much power you need, consider a kiln with a higher wattage. You can always turn it down if it's too powerful, but you can't make it more powerful if it's not enough.
Plug Type
Kilns come with either a two-prong or three-prong plug. Make sure you know what type of outlet you have before making a purchase.
Two-prong plugs can only be used with outlets that are grounded, while three-prong plugs can be used with both grounded and ungrounded outlets.
Space Requirements
Before buying a kiln, make sure you have enough space to store it. Floor models can be large and heavy, so you'll need to make sure you have a dedicated spot for them.
You'll also need to consider the space around the kiln. There should be at least 3 feet of clearance on all sides to allow for proper ventilation.
Ventilation
Proper ventilation is important when using a kiln. Make sure the room you're using it in has good airflow and that there are no flammable materials nearby.
Some kilns come with a venting system that helps to remove smoke and fumes. These are a good choice for people who are living in 2-bedroom apartments with pets.
NOTE: Do not store your kiln in a garage or shed. These are typically not well-ventilated, and the fumes from the kiln can be dangerous.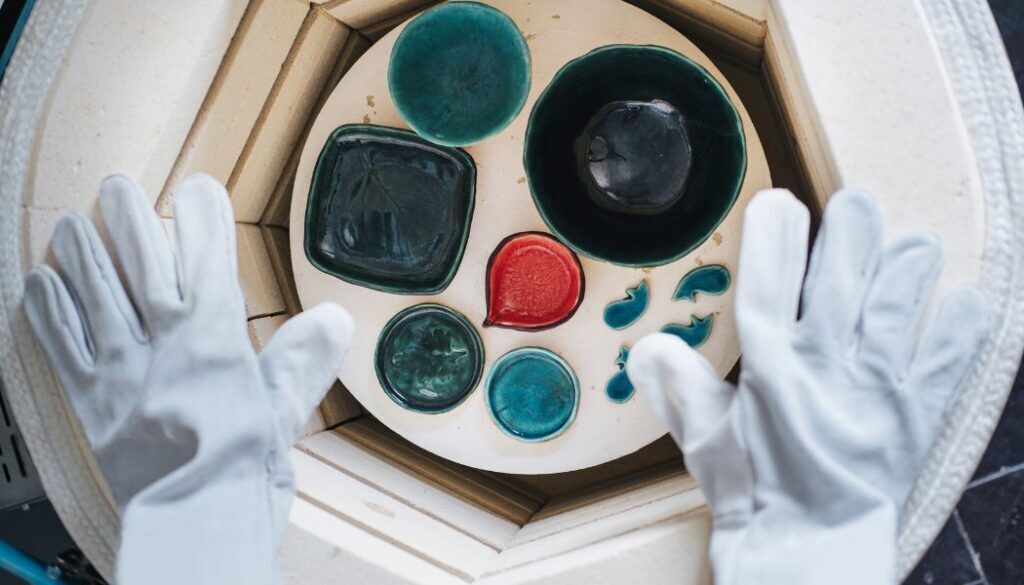 What Are the Best Ceramic Kilns for Home Use?
Now that we have discussed and know the essentials for selecting a good kiln that fits your needs, let's have a detailed look at the ones we have listed below.
Remember that there is no good or bad kiln in itself. Instead, it depends on your needs, the type of clay you'll use, your expertise and so on.
1. Skutt KM 1027 Kiln
Features
60 Amperage
Can store up to 12 programs
Digital Controller
Cone 10, 2350 F Temp
Skutt is a well-known brand when it comes to ceramic kilns and the KM 1027 is one of their most popular models. This bad boy is a workhorse – perfect for any studio or production line.
With up to 32 segments and 12 firing programs, you can create whatever kind of firing profile you need including fuse glass, slow cool cone 6 glazes, grow crystals and more. And if you ever run into trouble, its built-in diagnostics will help you troubleshoot in no time.
Plus, with twice the element grooves of some of its competitors, Skutt KM 1027 has more design flexibility than anyone else on the market. It features a 23-inch tall and 21-inch wide chamber which is large enough to accommodate multiple pieces at once – this saves you a lot of time.
What I like about this kiln is the environment – a great way to get rid of smoke and fumes quickly and efficiently. In addition, it also comes with a stand and shelf for easy loading and unloading of your projects.
Pros
Safety Switch – Auto Shut-off
Easy to use – allows you to set up and store your firing temperatures
Large chamber to accommodate multiple pieces
Can fire up to cone 10
Compact design
Cons
2. Tabletop RapidFire Kiln
Features
2200 F Temperature
15 Amp Circut
Digital Controller
6″ x 5″ x 6″ heating chamber
The RapidFire Pro-L is the perfect kiln for beginners especially If you like making jewellery, metal clay or ceramics. It offers the ultimate combination of portability, function, and performance. You can use it to fire your creations with ease and precision.
Plus, it comes complete with a digital control panel and embedded heating element so you can always get the results you want. Also, it comes with a programmable ramping controller, you can customize your firing experience however you like.
Furthermore, with just 12 lbs of weight, this kiln is light enough to take with you on the go. You'll never have to worry about being without your favourite firing solution again.
Pros
Lightweight and portable
Easy to use
Precise temperature control
Comes with a digital control panel
Sturdy material
Cons
Small chamber size
Not recommended for wax burnouts
3. FUSEWORKS Craft Kiln
Features
10 Amp
120v Standard USA outlets
1400 F temperature
8.5″ x 3-1/2″ firing chamber
If you're passionate about glass fusing and want the perfect kiln to help you take your skills to the next level. Then Fuseworks Craft Kiln is worth your shot.
It is an easy-to-use beginner/intermediate level kiln with an adjustable electronic timer. Unlike other digital controllers, this one is less complicated and comes with an auto shut-off feature.
You can fully fuse a two-layer project in as little as 15 minutes with this kiln! Plus, there are so many other things you can do with it – like glass slumping, ceramic slumping molds allow you to shape the glass by bending (slumping or draping) over a form to make unique art, dishes, and more.
.Furthermore, you can use it to create beautiful jewellery, ornaments, and even sculptures. The possibilities are endless with this kiln. Plus, this Kiln is ETL certified meaning that it has been tested and proven to meet the highest safety standards.
Pros
Affordable, portable, and impressive design
User-friendly timer
Self-regulating heating coil
Wooden handles prevent accidental burning of fingers
High temperature within 15 minutes
Comes with stand
Cons
Not recommended for wax burnouts
Keep away from children under 16 and pets
4. Delphi EZ Pro 15-6 Kiln
Features
Touch screen TAP controller
16 pre-set programmes
Large 15″ x 6-1/2″ firing chamber
3 Prong 120V Standard USA plug
If you've ever wanted to try fusing but were intimidated by all the options and settings, then Delphi EZ-Pro is for you.
Delphi has partnered with Jen-ken kilns to create the EZ-Pro. Jen-Ken is a well-respected name in the kiln industry, so you can be sure that you're getting a high-quality product.
You'll never have to worry about ruining another piece of jewelry because you forgot to change the program on your kiln again. With the Delphi EZ-Pro, all you have to do is touch the screen and you're good to go. No more guesswork or wasted time – this kiln is practically foolproof!
It is ideal for glass, metal, clay, enamelling, PMC, and ceramics. You can use it to fire both small and large projects with ease. Plus, the large 15″ x 6-1/2″ firing chamber means that you'll never have to worry about running out of space.
Pros
Large firing chamber
Comes with accessories including a stand, 13′ shelf, posts, shelf wash
Advanced control system
Adjustable temperature
Cons
You might need a large space to store it
What are Different Types of Kiln Firing?
Different types of firing are best for different materials and purposes. The three most common types of kiln firing are:
1. Annealing
Annealing is a type of heat treatment that is used to relieve stress in metals and glasses. It is also used to toughen some ceramics. To anneal a piece of glass, you need to heat it slowly and evenly until it reaches a specific temperature.
Then, you need to let it cool down gradually. This process allows the molecules in the glass to realign themselves and reduces the risk of breakage.
2. Bisque Firing
Bisque firing is the first step in the process of glazing and painting ceramics. During bisque firing, the clay is heated to a temperature that makes it hard but not solid.
This allows the piece to be handled without fear of breakage, and also makes it ready to accept glaze.
3. Glaze Firing
The glaze firing is the process of heating a piece of pottery or ceramic to a high temperature to melt the glaze onto the surface.
This type of firing needs to be done slowly and evenly to prevent the piece from cracking.
Tester Kiln VS Industrial Kiln: What's the DIfference?
Industrial kilns are large, expensive, and not suitable for home use. They are designed for use in commercial settings such as factories and laboratories.
Tester kilns, on the other hand, are smaller and more affordable. They are perfect for home use and can be used for a variety of purposes including firing ceramics and metals.
When it comes to choosing a kiln, it is important to consider what you will be using it for. If you only need to fire small items occasionally, then a tester kiln is a good option.
However, if you plan on firing large items or doing a lot of firing, then an industrial kiln is a better choice.
What are the Different Types of Ceramic Kilns?
There are two main types of ceramic kilns: electric and gas.
Electric Kilns – They are the most common type of kiln, and come in a variety of sizes. They are easy to use and can be plugged into any standard outlet. These kilns are ideal for firing small items and usually come with a variety of features that allow you to control the firing process.
Gas Kilns – They are powered by natural gas or propane, and one of their main advantages is that they can reach higher temperatures than electric kilns. They are also more expensive and require more maintenance. Furthermore, these kilns are usually only used in commercial settings.
NOTE: Electric kilns are easy to use and can be plugged into any standard outlet, but they have a lower maximum temperature than gas kilns. They are also not suitable for firing large items.
What are Toploading and Front Loading Kiln?
A toploading kiln is the most common type of kiln. It has a door on the top that allows you to load and unload items. In our list above, Delphi and Tabletop kilns are examples of top-loading kilns.
TIP: When looking for a toploading kiln ensure it has good insulation. Additionally, look for an elongated hinge structure that balances the weight of the door.
On the contrary, front-end loading kilns have a door on the front. These kilns are less common, but they offer some advantages over toploading kilns such as:
You don't have to bend to load/unload them
They allow you to see the items when being fired
They are reliable and have a longer lifespan
How to Use a Ceramic Kiln at Home by a Beginner?
If you are new to using a kiln, it is important to first test with small and simple projects. This will allow you to get a feel for the process and learn how to use the kiln without damaging your pieces.
Here are some tips for using a kiln at home:
Read the instruction manual that came with your kiln. This will help you understand how to use the kiln and its features.
Start with small projects. As we mentioned above, it is important to start small and simple when you are first learning how to use a kiln.
Use the correct type of clay. Not all types of clay can withstand the high temperatures of a kiln. Be sure to use a type of clay that is designed for use in a kiln.
Place your pieces on a kiln shelf. These are made of heat-resistant material and help to protect your pieces from the direct heat of the kiln.
Follow the firing schedule. It is a set of instructions that tells you how long to fire your piece and at what temperature.
Let the kiln cool down before opening it. This will help prevent the pieces from being damaged by the sudden change in temperature.
Be sure to check out the video below where Marie answers some important frequently asked questions regarding ceramic kilns.
Related Questions
What is the best brand of ceramic kiln?
Some top brands of ceramic kilns include Skutt, L&L Kilns, Evenheat, Olympic, and Paragon. Look for a reputable manufacturer that produces high quality kilns suited for your needs as a hobbyist or professional potter. Ensure the brand offers good warranty and customer service.
What is the best kiln to buy for a beginner?
As a beginner, a small tabletop kiln in the range of 1-3 cubic feet is a good choice. Look for an automatic electric kiln with programmable controller and multiple temperature ramps and holds for versatility. Top loading kilns offer ease of use. Choose one that gets up to cone 6 temperatures.
What type of kiln would I need for home pottery?
For home use, a compact electric kiln that reaches cone 6-10 temperatures is ideal. Consider a 1-3 cubic foot front or top loading kiln. Ensure it has overload protection and is properly grounded. Ventilate properly and check wiring can handle the electrical load.
Can you use a pottery kiln in your house?
Pottery kilns can be safely used in homes with proper precautions, including good ventilation, clearance from combustibles, and amperage ratings on circuits. Small hobbyist tabletop kilns are designed for home use. Larger kilns may require wiring upgrades or detached workshops to control fumes. Follow manufacturer guidelines.
Read next