We've all seen that one guitar finish or design that really grabbed us. Maybe some of us have thought, "Hey, I could do something like that." And a small percentage of THAT group decided to try it, broke out the paints, and got to work—ruining their guitar.
You can use acrylic paint on a guitar. However, you need a proper understanding of paint choices, and how best to prepare the acrylic paint to achieve optimal results. You also have to be open to the possibility of the acrylic paint negatively affecting the value of a guitar.
If you go into your prospective paint job knowing the risks you're taking (though it's not like they're life-threatening) and do the right prep work, you can come out with a pretty cool guitar emblazoned with whatever you can think of to paint on it. Let's get to work.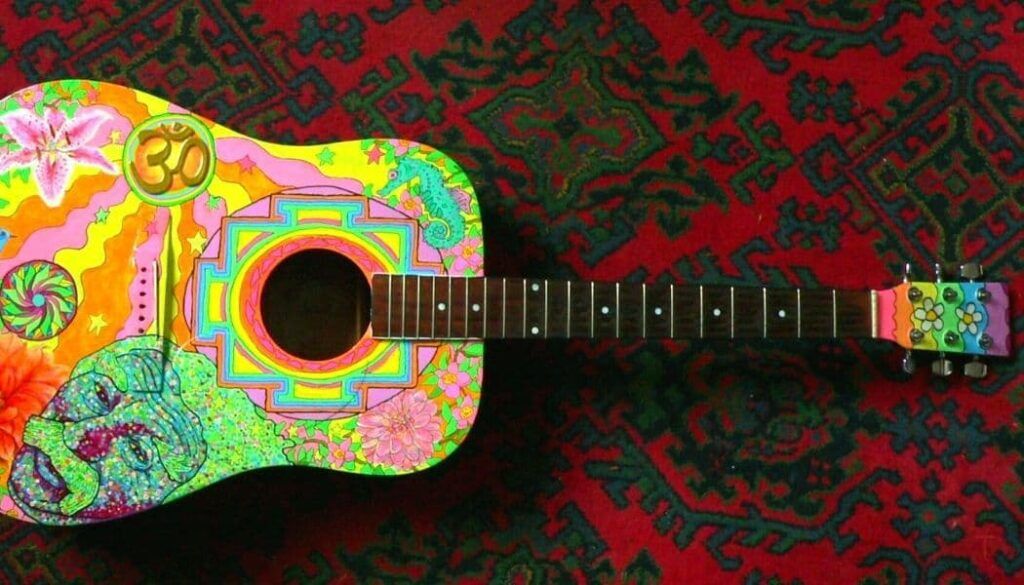 How To Prepare Your Guitar for Painting
It's perhaps more important to properly prepare your guitar for painting than any other step of the process, which includes the kind of paint you choose. The process is similar for acoustic and electric guitar bodies:
Remove all strings, electronics, knobs, and neck (if your acoustic neck is removable).
Sand the wood.
Apply primer.
There are some key differences in how you do some of this and what you need to pay attention to when painting acoustic or electric guitars.
Preparing Acoustic Guitars
Since the wood of an acoustic guitar is often very thin, and since that wood has a great deal to do with the instrument's resonance and therefore it's sound, you've got to be extra careful when sanding the body.
Do not use a power sander.
There's just too much that can go wrong—you could oversand a spot and not even know it until you realize you can see the inside of your guitar.
But sanding is of the utmost importance. Slapping a coat of acrylic paint on top of another finish or paint job will result in the paint eventually flaking off and looking awful. The key to a successful sanding job is patience.
If you rush through it, you won't have a good, smooth surface to take the paint, and you'll end up unhappy with the result.
But it bears repeating that you must be careful when sanding your acoustic guitar body. Make sure you get every last bit of paint, varnish, sealer, whatever off of it, but if you get overzealous, you can do some real damage.
Preparing Electric Guitars
Since the finish on a solid-body electric is slightly different, some recommend using a heat gun like Homidic's Mini Handheld Hot Air Gun on Amazon.com (running at its lowest setting) to remove the paint before you start sanding.
[amalinkspro type="image-link" asin="B07P5WFHJ7″ new-window="true" apilink="https://www.amazon.com/dp/B07P5WFHJ7?tag=paintingwithyou08-20&linkCode=osi&th=1&psc=1″ img-size="500,500″ addtocart="false" nofollow="true" alt="6.56FT Long Heat Gun, Uptdae Version Homidic Mini Handheld Hot Air Gun, Electric 300W Portable Heat Gun for DIY Craft Embossing, Shrink Wrapping PVC, Drying Paint, Clay, Rubber Stamp" alignment="aligncenter"]https://m.media-amazon.com/images/I/41mVUahHDcL._SL500_.jpg[/amalinkspro]
And since electric bodies are usually solid hardwood affairs, you won't have to be so careful while you're sanding.
Still do it by hand, as a power sander is, again, just asking for trouble with a delicate musical instrument in the mix.
NOTE:  Your electric guitar will have more nooks and crannies than the average acoustic body, so pay close attention to every little spot. Even the tiniest bit of finish or old paint left in place can compromise your paint job. 
Take the time to do it right the first time.
How To Paint a Guitar With Acrylic Paint
As discussed earlier, much of the process will be the same whether you're dealing with an acoustic or electric guitar, so let's go step by step.
1. Prepare Your Guitar
Prepare your guitar, as mentioned above, by removing strings and all hardware. You can completely remove pickups and simply solder them back in once everything dries. Arrange all hardware neatly in a box, or anywhere parts won't mix up together or go missing.
2. Sand the Body
Sand the body of the guitar, which we have already discussed. Just remember to be very gentle with your acoustic guitar. Electric guitars can also get damaged when sanded with heavy equipment.
3. Apply a Wood Primer
Apply a wood primer, which is just another preparation for the wood. Primer seals the wood and helps the paint last longer and adhere to the guitar better than on untreated wood. Choose something like the Liquitex Basics Gesso Surface Prep or Handy Art's Gesso White.
[amalinkspro type="image-link" asin="B000KNDMLG" new-window="true" apilink="https://www.amazon.com/dp/B000KNDMLG?tag=paintingwithyou08-20&linkCode=osi&th=1&psc=1″ img-size="500,500″ addtocart="false" nofollow="true" alt="Liquitex BAICS Gesso Surface Prep Medium, 16-oz, White" alignment="aligncenter"]https://m.media-amazon.com/images/I/31wtXbYYIfS._SL500_.jpg[/amalinkspro]
Whatever brand you choose, gesso is probably your best bet for use with acrylic paint.
NOTE: Once the primer is dry, sand it with fine paper (no finer than extra fine, which runs to a grit of 360) and add another coat. Dry, sand again, and move on. If you want to add a third coat, no one will make fun of you.
4. Draw Your Design
Draw your design directly on the primed surface. You can use masking tape if you're looking for some clean, sharp lines. If you're free-handing something, good luck. Again, planning is your friend.
Remember that with an electric guitar, you'll more than likely have a pickguard to deal with, so be aware of it. It would be a shame to paint some lovely, intricate design only to have a pickguard screwed down over it, hiding it from the world.
5. Paint the Design
Paint your guitar. If you make a mistake, you can just paint over it, I suppose, but doing that may give you an uneven surface once everything dries. As with the primer, you may want to use more than one coat, but this will depend on what you're going for as far as the guitar's look.
Acrylic paints like these from Grumbacher or Castle Art Supplies on Amazon.com are apropos for the job.
[amalinkspro type="image-link" asin="B06ZYSFWNN" new-window="true" apilink="https://www.amazon.com/dp/B06ZYSFWNN?tag=paintingwithyou08-20&linkCode=osi&th=1&psc=1″ img-size="500,500″ addtocart="false" nofollow="true" alt="Castle Art Supplies 48 22ml Large Acrylic Paints Sets for Adults Artists Beginners | Vibrant Colors | The Premium Acrylics Paint Set" alignment="aligncenter"]https://m.media-amazon.com/images/I/51tzhHs7+zL._SL500_.jpg[/amalinkspro]
NOTE: Make sure you are careful around the neck area of the guitar. If you get paint down in the area where the neck rests, you may end up not being able to fit that neck back into place once everything is dry and it's time for reassembly.
6. Seal the Acrylic Paint On the Guitar
Once the paint job is completely dry, you'll want to seal it.
You can brush on a sealer, but spray sealers are more likely to give you a nice, even finish unless you're a pro at brushing on paints and paint-like materials. Without a sealing coat, your paint job will crack much sooner and will very likely begin peeling off.
Explore your options on this one—you have the option of a matte or glossy finish, which is entirely governed by the sealer you choose. Krylon's Clear Sealer on Amazon.com is an excellent place to start.
You might like my post: How to seal acrylic painting?
Things To Keep in Mind
If you've got a Martin or a Taylor acoustic guitar that's worth five figures, you're probably not thinking about stripping, sanding, and painting it. If you are thinking about it, stop right now. Most people who consider painting their guitars are doing so for a specific, custom look, and that's great.
But if your guitar already has a look like that, maybe think twice. Your guitar signed by a rock god might be worth more with the signature than with your painting of a dragon on it. Just make sure you ponder your project and what it will mean for you and your guitar.
Also, consider Willie Nelson's Martin—it's a disaster aesthetically.
It has writing all over it and that hole in the front that makes everybody recognize that it's Willie Nelson's guitar. But nobody wants him sanding it down and refinishing it, right?
There are also those who claim that painting your axe with acrylic paint will somehow deaden or alter the sound. This is dumb. Many guitars come out of the factory with acrylic paint or finish on them, and no one claims that has anything to do with harming the instrument's tone.
Of course, if you slather on ridiculous amounts of paint, you could cause some changes to your tone, but you're not planning on doing that, and if you are, you're probably doing some sort of art project, and the sound of the instrument doesn't matter.
Conclusion
Finding more and more ways of self-expression can include customizing your acoustic or electric guitar with your custom, hand-painted finish. With the proper preparation and careful execution, you can paint your instrument with acrylic paint and end up with a guitar everyone in the crowd recognizes is yours.
Read Next