Ceramic mugs are a great way to show your personality and style. But they can also be expensive, which is why many people choose to paint their own. Painting ceramic mugs are a great way to customize them and make them unique.
The best part is that it takes very little time and effort to do. In addition, it is also a great way to let your creativity flow. So, if you are looking for a fun and easy project to do, then painting ceramic mugs is the way to go.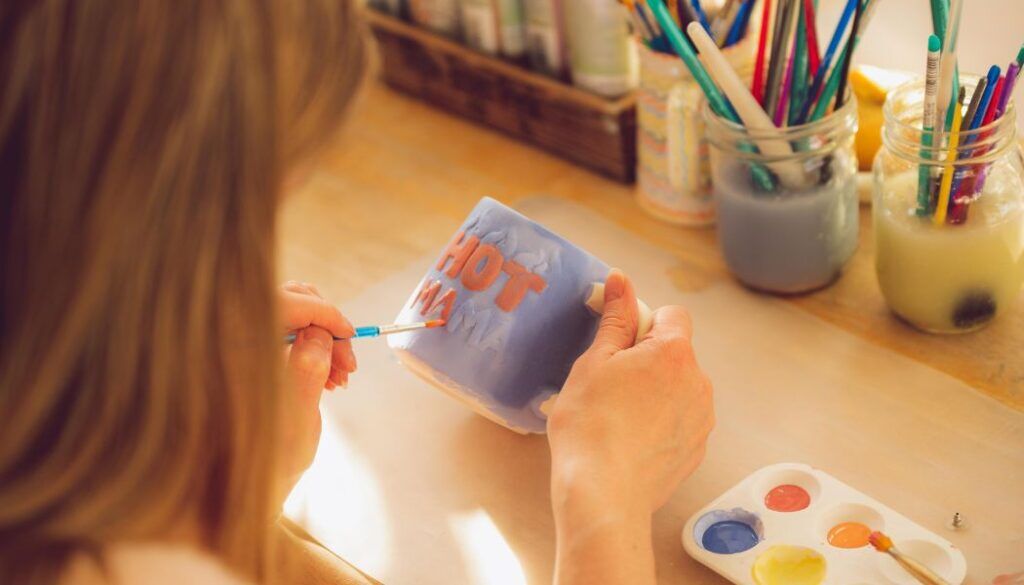 So How To Paint Ceramic Mugs At Home?
There are different ways that you can paint ceramic mugs. In this article, we are going to learn 3 ways :
Painting Mugs With Acrylic Paint
Painting Mugs With Paint Pens
Painting Mugs With Nail Polish
METHOD 1: Painting Ceramic Mugs With Acrylic Paint
This is the most popular method of painting mugs. It is also the easiest and most forgiving method. All you need:
Paint Brush
Ceramic Mug
Paper Plate or Palette
Water
Rubbing Alcohol
Pencil (optional)
Masking Tape
Procedure:
Step 1: Wash the mug with soap and water. Rinse it well and dry it with a clean towel. For better results, clean it again with rubbing alcohol. It will remove any oils or residues that may be left on its surface.
Step 2: Place a piece of masking tape around the top of the mug, about an inch from the rim. This will create a nice clean line for you to paint up to. Furthermore, if you want, you can also use a pencil to outline your design on the mug. This is especially helpful if you are not confident in freehand painting.
Step 3: Pour a small amount of paint onto your paper plate or palette. Dip your brush into the paint and start painting. Work in small sections, one at a time. This will help in blending the paint well before it dries completely.
NOTE: If you need to thin out the paint, you can add a few drops of water. Just be careful not to add too much or the paint will become runny.
Step 4: Once you are happy with your design, allow the mug to dry for 24 hours. Then, remove the masking tape and bake the mug in a preheated oven at 350 degrees Fahrenheit for 30 minutes. This will set the paint and make it dishwasher safe.
Step 5: Allow the mug to cool completely before using it. Then rinse it clean with soapy water.
How Do You Seal Acrylic Paint on Ceramic?
After you have baked your mugs and they have cooled completely, you can apply a clear sealer to them. This will help protect the paint and keep it from chipping or fading over time.
There are many different types of sealers available, so be sure to read the labels carefully to find one that is compatible with ceramic. A few of my favourite sealers are below:
NOTE: You'll generally need to apply 2-3 layers of sealer, allowing each coat to dry thoroughly before applying the next. Follow the instructions on the label for the best results.
How Do You Make Acrylic Paint Permanent on Mugs?
As long as you bake your mugs according to the instructions above, the paint will be permanent. However, if you want to be extra sure that the paint won't come off, you can apply a clear sealer after they have cooled.
NOTE: Before you apply sealer, make sure your mug is heat cured i.e you will need to bake it at 350 degrees Fahrenheit for around an hour.
Is Acrylic Paint Dishwasher safe?
Since acrylic paints are water-based, they are originally not dishwasher safe. That is why we have included in the instructions to bake the mugs in a pre-heated oven to make them dishwasher safe.
However, if you're still skeptical about the longevity of the paint, then you can further lock it with the help of a sealing agent as mentioned above.
Is Acrylic Paint Microwave Safe?
Although a microwave oven is safe for heating acrylic paint, however, it is not recommended to use it for baking the mugs. The reason is, that the paint might not be able to withstand the high temperature and can melt instead of getting cured.
Hence, it is always better to use a pre-heated oven for baking your mugs as per the instructions.
METHOD 2: Painting Ceramic Mugs With Paint Pens
This is another popular method for painting ceramic mugs. It is similar to using acrylic paint, but the pens give you more control over the design. All you need:
Ceramic Mug
Paper Plate or Palette
Water
Rubbing Alcohol
Pencil (optional)
Masking Tape
Procedure:
Follow the same steps as mentioned above for method 1. Replace acrylic paints with paint pens are you're good to go.
Remember, make sure you read the instructions on the paint pens before you start. Furthermore, some brands may require that you shake them or press the tip down several times before you start working.
TIP: Keep the paint away from the rim of the mug. This will ensure that you don't consume the paint accidentally if it starts to chip off.
Watch the video below to see how beautifully Artistro transforms her mug from plain white to a creative custom-painted mug.
METHOD 3: Painting Mugs With Nail Polish
Yes, you heard it right. If you can't afford acrylics or paint pens, nail polish can help. It is the easiest of all. Furthermore, if you're not very good at hand drawing or do not own an oven, you can try this method. All you need:
Nail Polish
Newspaper
Ceramic Mug
Toothpick
Water
Plastic Container
Procedure:
Step 1: First, wash the mug with soap and water. Rinse it well and dry it with a clean towel.
Step 2: Spread some newspaper over your work surface to protect it from nail polish spills.
Step 3: Take a plastic container and pour lukewarm water into it. Make sure the container is deep enough to merge your mug in it.
Step 4: Pour a few drops of nail polish. And mix it in the water slowly with the help of a toothpick. You can use just one color or multiple colors at once. Whichever suits you.
Step 5: Next take the mug, and slowly dip it into the water from down up (just like you're putting it on a table). Keep the mug in the painted water for about 4-5 seconds only and then take it out.
Step 6: Finally, place the mug on the newspaper and let it dry out. Then rinse it with soapy water and after that, it is ready to use.
Watch the video below to see how creatively Laurel Beard has transformed her plain white mugs into colorful and creative ones using nail polish.
Can You Paint Glazed Ceramic Mugs?
Technically, you cannot paint over a glazed ceramic mug. It is because the glossy surface does not allow the paint to stick to it. However, if you still want to give it a try, then use etching primer or sandpaper to make the surface rough. This will help the paint to adhere better.
Additionally, there are also a lot of paints available for glazed ceramics such as DecoArt Glass Paint Pens. These markers make the perfect match with the glazed ceramics and give excellent results.
Furthermore, they can be baked to make the paint permanent, are dishwasher safe and lastly very economical as well.
Related Questions
The main difference between ceramic and porcelain mugs is that ceramic mugs are made from red or white clay while porcelain mugs are made of a finer type of clay. In addition, ceramic mugs are usually glazed on the inside only while porcelain mugs are glazed on the inside as well as the outside. Furthermore, ceramics are less expensive and more durable as compared to porcelain.
You can use ceramic markers or pens to write on ceramic mugs. These markers come in different colors and are specifically designed for writing on glass and ceramic surfaces. Once you're done then bake them at 350 F in a pre-heated oven.
Baking ceramic mugs with acrylic paint is very easy. First, preheat your oven to 350 degrees Fahrenheit. Then place the mugs on a baking sheet lined with parchment paper and bake for 30 minutes. After that, let them cool completely inside the oven before taking them out and putting them to use. This way you'll prevent cracks from forming.
Yes, you can spray paint ceramic mugs. However, make sure to use ceramic paint or any other type of paint that is specifically designed for use on ceramic surfaces.
Read Next