Having a set plan design plan before beginning a painting may not be required, but it is something I recommend you do. I researched some of the most asked question about sketching on canvas before painting.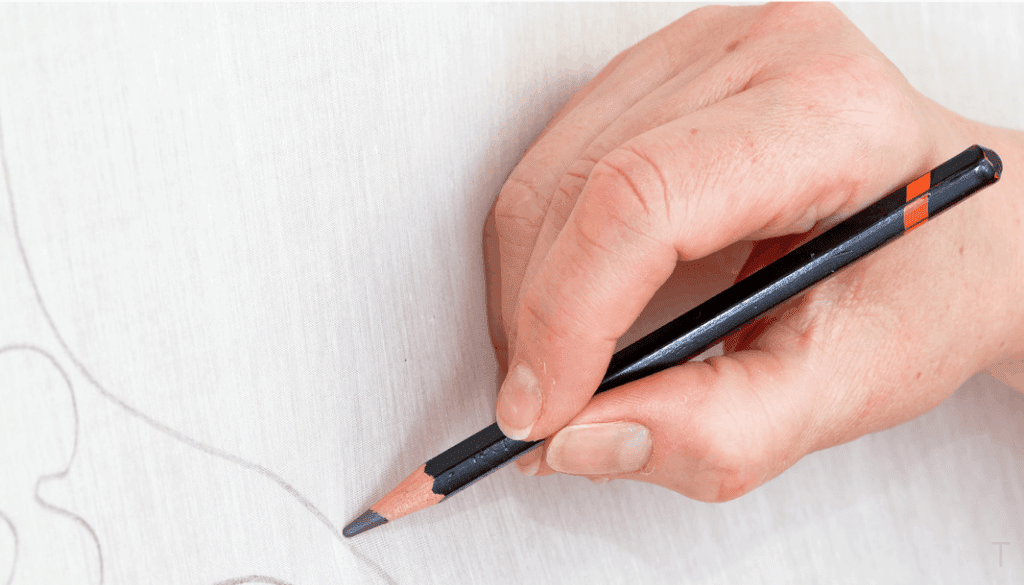 Do you sketch on canvas before painting?
Choosing weather or not drawing on canvas will be your first step in the whole process is entirely up to you. Some artists will choose not to however, I recommend sketching out the design concept for a few reasons.
This helps in the planning stage immensely – it gives a clear direction and outline of the painting, which is very helpful to have at the start of the project.
It's easier to change a painting's design component before getting halfway into the picture or at the end of the project! That would not be good at all, as it would take up supplies and take up a lot of time and effort.
Sketching out a design concept on canvas before starting to paint helps me better prepare the materials I will need for the project.
So, while you may not have to sketch, there are many perks to doing it, which tends to make it a better choice!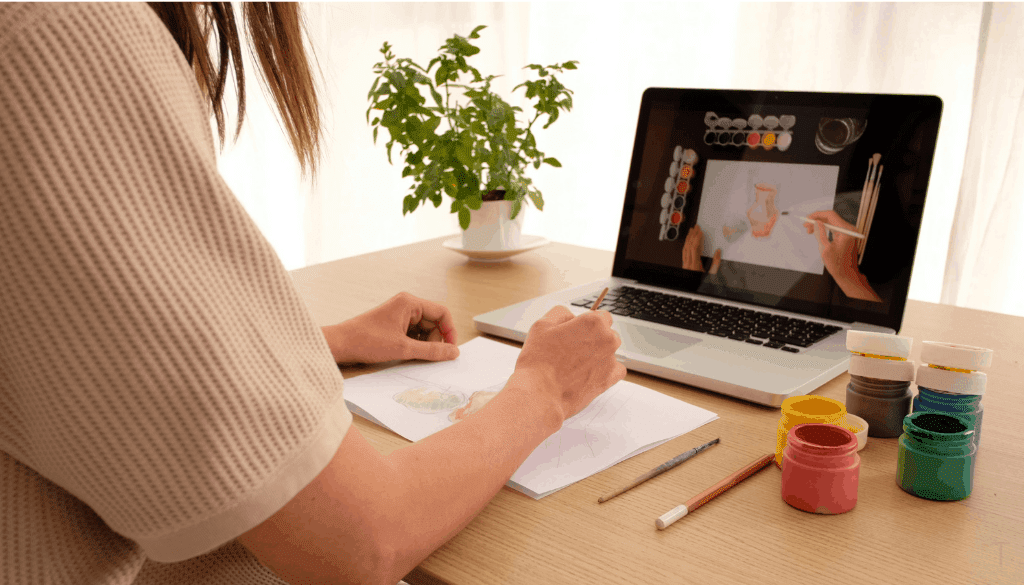 Do I need to learn to draw before painting?
Learning to draw will inevitably make you a better painter, but I wouldn't say that it is not "required". It can be an asset and develop you into a better painter if you know or learn drawing basics and techniques.
At the end of the day, the most important thing is to make sure you are enjoying the process and creating a piece of artwork personal to you.
Many professional painters will know how to draw pretty well, but outside of that setting, I would say most of the art world's hobby painters probably paint better than they draw, and that is perfectly fine.
5 easy tips and steps when you want to sketch on canvas before acrylic painting
Here are 5 easy tips I use on regular basis when I paint.
Have a design already sketched out on a basic sheet of paper
Having a design idea before starting the painting will save time, effort, and supplies, in the long run, making the process more enjoyable as well.
Use gesso on the canvas as a base
You must have a good base before sketching or painting!
Pick your sketching tool
Regular home and office pencil, a graphite pencil, or a pastel/art marker are all excellent options. A Sharpie could also be used.
Take your time!
An artist mustn't rush the creative process – mistakes take time to fix, and it is better to sketch slowly and methodically than having to keep fixing errors every few minutes.
Once the sketch on the canvas is complete, take a step back and look at the piece.
Look at the drawing's scale on the canvas, check for any lines that need to be straightened, and check the canvas's overall look. If you are satisfied with the finalized design sketched on the canvas, it's time to paint!
Be aware that with some sketching tools, it may be wise to use a sealant before painting. See below for my advice on sealants!
How do you seal pencil drawings on canvas?
Ideally, you want to prepare your canvas for painting with gesso before making your first mark on it. Paint used after primed canvas will not soak in, which could potentially disrupt the painting and make the process difficult.
There are a few options to seal pencil drawings such as diluted gesso, Spectrifix, Krylon Fixative Aerosol, and other fixative sprays that contain shellack.
TIP: Use Graphite and soft pastels. They are popular drawing mediums when sketching out a design on canvas and can be sealed with above mentioned sealants.
Can you paint over pencil on canvas, or should you erase it?
Ultimately, this is up to you! You can choose to erase the lines as you go and not have to worry about your sketch lines. However, if you do not want to erase the lines, there are a few different ways to minimize the lines so that they won't show through the painting as much.
1. Kneaded eraser
Take your kneaded eraser and *very lightly* tapp the lines until they are very faded. This is very common in painting, and many artists choose this route, especially with complicated pictures requiring many details.
[amazon bestseller="kneaded eraser" items="3″ template="table"]
2. Light pencil
A second option is to use a light pencil to begin with – resulting in lighter sketch marks on the canvas that requires little to no tapping with a kneaded eraser.
[amazon box="B01MU07ID5″ template="horizontal"]
NOTE: Most of the time, choosing a lighter graphite or charcoal pencil will be the most efficient tool time and energy-wise, especially with very detailed and ornate sketches!
Can you use Sharpie on canvas?
You can use Sharpie marker on canvas. When using it, the line will be much darker and easier to trace.
TIP: When I use Sharpie, I always use gesso once again over these markings. I get smooth, even base for the paint and decrease the chance for my pencil lines to be visible on the painting.
Can you use hairspray to seal pencil drawings?
Using hairspray as a sealant on canvases is a frugal hack that many artists use. While this method works in a pinch – it is better to use a professional grade fixative over the pencil sketching.
Some hairsprays can lead to damage as the artwork ages, and if it is something that a painter has taken a lot of time to work on, it would make sense to use a good and vetted professional spray.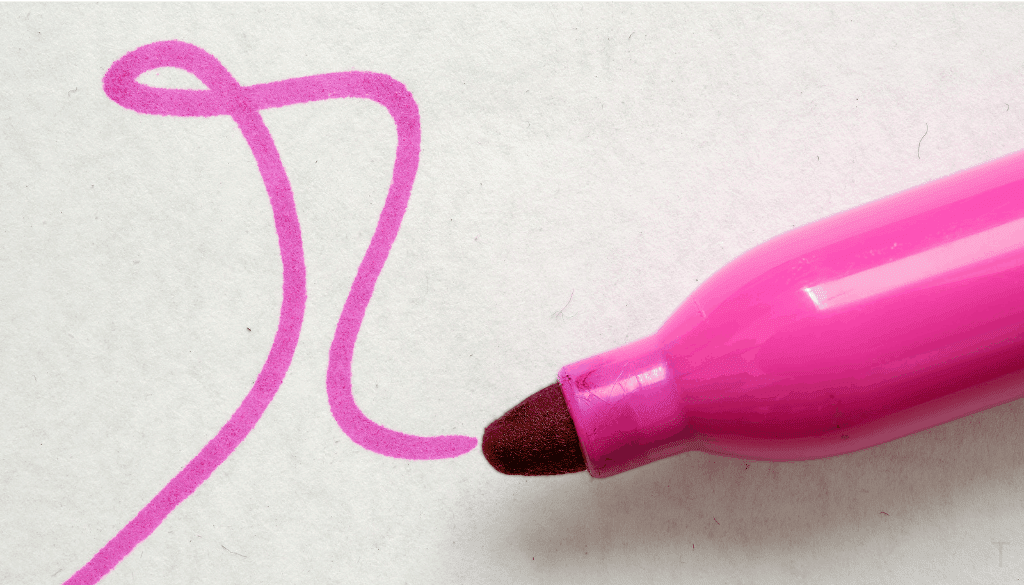 Can you use a marker on canvas?
You can use markers on canvas but I suggest using a good quality one made specifically for art projects that tend to have better vibrancy and staying power over those made for generic home and office purposes.
Art markers come in an array of brands and typically are either oil or alcohol-based.
They are good for hand lettering and illustrative work, and once finished, look crisp, often with intricate details.
[amazon box="B07RDYB1WQ" template="horizontal"]
Read next: